As a Colorado native with familial roots in Aurora going back decades, I am excited about all the growth taking place in Colorado's third most populated city! I recently attended an Economic Summit hosted by the Denver Metro Association of Realtors that focused on areas of growth in the city of Aurora.
Here's what you should know about the Aurora real estate market in the northeast part of town known as the "Emerging Aerotropolis":
Painted Prairie
: Located directly across from the Gaylord Resort, Painted Prairie is a fresh urban community consisting of 644 acres of residential, green space and parks (with a butterfly garden!), and a town center complete with hotels, dining, and more! This community opens at the end of February 2023 and over 400 units have already been constructed. There is a little bit for everyone here and undoubtedly will be a desired community to be a part of for homeowners and business owners alike.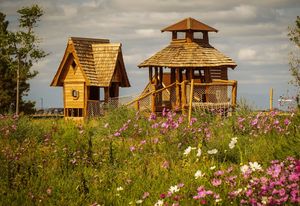 Aurora Highlands: Located off E-470 at Exit 22 (2-miles N of I-70), this community is convenient for commuters. The area will consist of four schools, libraries, walking/biking trails, parks, playgrounds/athletic fields, and 12,487 planned residential homes with ranging affordability for first-time buyers and luxury buyers. This community is in development with 360 units under construction available for purchase now!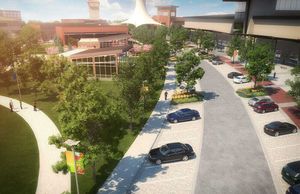 High Point
: Just west of the Gaylord Rockies resort, High Point features 13 miles of trails connecting 299 acres of residential neighborhoods, 617 acres of parks, business campuses, schools, a town center, and hotels. The community currently has filings under review for multiple uses and infrastructure, however, there are already 700 residential units completed, and a sought-after P-8 Charter School in the area.
Green Valley Ranch East: The very first master planned community in the "Emerging Aerotropolis," this community offers 588 acres with 2,600 planned residential units (350 units under construction) and multiple filings under review. Sections of Green Valley Ranch are part of Denver, however, this emerging residential section (E of Picadilly) belongs to Aurora! In here you'll find varied residential communities, parks, and community art close to a golf course, schools, rec center, and beer garden.
Windler: Located between E-470 and Harvest Road, Windler features 840 acres with plans for residential, commercial, and mixed-use. The infrastructure plans are in progress, and it will be exciting to see what comes into the planned 2.4M square feet of commercial and mixed-use space.
Porteos
: Situated just off Jackson Gap Way close to DIA, Porteos will include planned office/flex space, industrial, aviation, retail, hotel, and restaurants. Construction is ongoing and there are multiple plans in review. This area willbring in some big primary employers, like Costco distribution and some other exciting, rumored companies (email to find out who!).
Fulenwider: Located by 56th Avenue and E-470 Interchange, this community has plans for over 216 acres of industrial, mixed-use, and around 1,200 planned multi-family units. There will be more to come once they've passed approval on their master plan and are awaiting review for initial filings. Keep your ears open for "Denali Logistics Park"
Majestic Commercenter: Nestled off I-70 up to E-470, this project features over 11M square feet of built industrial with major projects nearing completion like Shamrock and Subaru.
Aurora One: Off the E-470 interchange and 6th Avenue Parkway, Aurora One has plans to encompass 2,000-2,500 residential units and 1.75-2.5M square feet of office and/or commercial space. It's situated on 154 acres with plans geared toward a "pedestrian environment". This area is intended to combine first floor storefronts, retail, restaurants, and pedestrian activities with flexible upper floors for commercial offices and higher density residential.
Stanley Residential
: Near Central Park, Stanley Residential is a pet-friendly, 168-unit multi-family residential community complete with their own marketplace, lounge, fitness center, yoga room, working stations, conference rooms, bike storage, pet wash, and private balconies. This chic community has it all!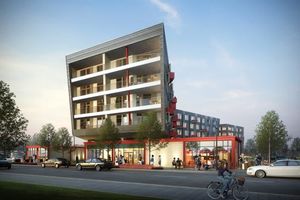 Alexan Montview Plaza
: Just south of Stanley Marketplace, this project will build 395 units of residential apartments with pedestrian bridge over Chester Street to 4-story parking garage. There is approximately 14,000 square feet of retail and 5,000 square feet of commercial for neighborhood grocery store and retail.
Clinton Street Tow Yard: Previously an old tow yard, this area is planned to have 12,000 square feet of commercial space with 338 units residential. It will be a great option for office space and small businesses.
The Point at Nine Mile
: Formerly the Regatta Plaza, The Point at Nine Mile is located along the R Line at the I-225 and Parker Road interchange. It will include over 100,000 square feet of retail, 250,000 square feet of commercial, and around 500 units of residential. This area will have a pedestrian bridge across Parker Road connecting to the Nine Mile Station light rail station. King Soopers and Key Bank have already relocated here. Affordable housing and retail are part of the plans.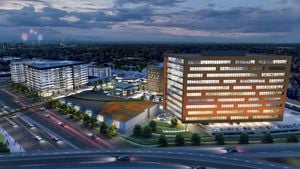 Metro Center
: Also located off the R Line on the east side of Sable Boulevard, this center plans for 1,025 residential units that are already in progress; projected future plans include retail, commercial, and additional residential building.
Cross Creek Pad: Situated at the corner of 6th Pkwy and Gun Club Road, this development will encompass commercial businesses next to an already under construction multi-family residential neighborhood. This is especially exciting for this rapidly growing community that is in need of retail and commercial support. While much of what will go into this area has been kept confidential, recently, 7-11 announced they will be coming into the 1.28 acre spot on the corner. The zoning for the area is equipped for high-quality retail. Some speculation has been around banks, medical/dental offices, restaurants, retail shops, day care facilities, auto body shop, drive-thru facilities, but we have yet to hear who else will be going in.
What a list of exciting developments for the City of Aurora. In a low inventory housing environment, growth and development projects are exactly what the Denver metro area needs to sustain demand.
If it isn't clear to you already, Aurora is working hard to retain, attract, and expand business and employment opportunities for its community! The city is heavily invested in creating atmospheres for businesses to thrive by melding business and residential communities together. Its focus on transit-oriented development, urban renewal/redevelopment, retail, residential, and industrial/office is making our town an attractive place to call home.
At Dempsey Group we truly believe in the power of owning real estate and its ability to transform lives for the better. We work hard every day to find options and opportunities for our clients in all market conditions so that they can live their life to the fullest knowing their real estate strategy is hard at work for them! Reach out if you would like to discuss any of these areas further – we'd be happy to help you turn your Aurora real estate homeownership dreams into reality!
*Header photo courtesy: Lauryn Dempsey site