BELOVED LOCAL HAUNTS FOR A UNIQUE DINING EXPERIENCE
Casa Bonita
: Reopening under new ownership (by the creators of South Park) in May 2023. Cafeteria-style Mexican food with cliff diving entertainment, magic shows, arcade games, and a spooky cave. We can't wait to see how this beloved historical landmark has been transformed! 
Located at 6715 W. Colfax Avenue, Lakewood, CO 80214
.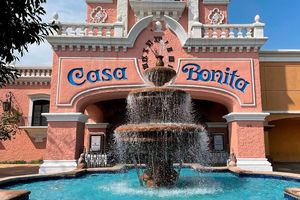 Photo Credit: Thomas Peipert/www.wsj.com
Davie's Chuck Wago
n: Funky greasy spoon diner on West Colfax with original statue outside. This local favorite has been around since 1957 and is even listed on the National Historic Register. Also, around 80% of the customers at Davie's Chuck Wagon are regulars! Enjoy steak and eggs and other reasonably priced diner fare from 6am to 3pm daily. 
Located at 9495 W. Colfax Avenue, Lakewood, CO 80215
.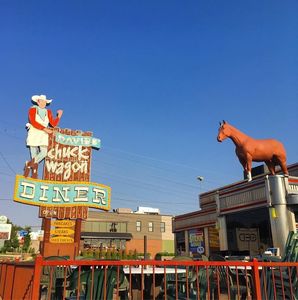 Photo Credit: Atlas Obscura
Buckhorn Exchange
: Open since 1893, Denver's oldest restaurant offers a unique selection of meat dishes including quail, rattlesnake, and the infamous Rocky Mountain Oysters. Notable customers include Teddy Roosevelt, Ronald Reagan, and Roy Rogers. Look for the framed Colorado Liquor License #1 intermingled with a collection of over 500 taxidermy pieces. 
Located at 1000 Osage Street, Denver CO 80204
.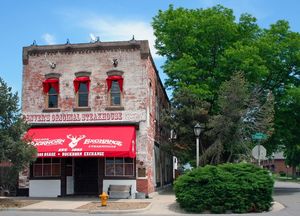 Photo Credit: Wikipedia
PS Lounge
: Cash-only establishment described as straight out of the 80's. Women receive a rose and an "Alabama Slammer" shot upon entry. Head over for a few pre-show cocktails before enjoying live music at the BlueBird. 
Located at 3416 E. Colfax Ave., CO 80206
.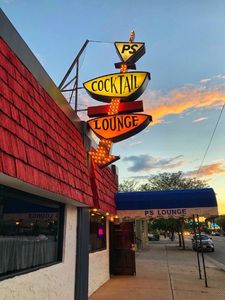 Photo Credit: Yelp
Columbine Steakhouse & Lounge
: Family-owned, cash-only steakhouse where each meal is served with a salad, baked potato, and toast. Established in 1961, Columbine Steak House has maintained reasonable prices for their dinners in a low-key neighborhood atmosphere. Closed on Sundays. 
Located at 300 Federal Boulevard, Denver, CO 80219
.
Photo Credit: 5280 Magazine
Bastien's Restaurant
: Ranked #1 on Denver's Top 10 Steakhouses list, this old school restaurant with retro vibes with a sugar-rubbed steak and highly-recommended skillet apple pie for dessert. Closed on Mondays. 
Located at 3503 E. Colfax Avenue, Denver, CO 80206
.