It's been a wild ride since my 
February newsletter
. Bank failures, a hot jobs reports, and declining inflation have dominated the headlines these past few weeks. The result? Interest rates have oscillated from the low 6%-to-over-7% range in a very short period of time.
It can be hard to keep up and understand how to interpret this volatility. Here are my takeaways:
Demand exceeds supply and will keep prices elevated. To offset demand in our market, we would need to have over 28,500 homes listed for sale. Currently, we have ~3,695 active listings across seven counties that represent a total population of ~2.9m people. Turnkey homes that are priced right are seeing multiple offers due to low supply.
Remember, real estate is long term. When we look to history, home prices have appreciated 73 years out of the past 81 years! Investing in hard assets like real estate is a smart move. Further, history tells us that real estate appreciates during recessions. Of the last six recessions, Denver real estate values have appreciated during five recessions.
Volatility can mean opportunity for buyers. When you look beyond the headlines and dig into the data, you will uncover an economic story that shows signs of a slowing economy. Inflation drives mortgage rates, and as inflation decreases, so will rates. Buyers who enter the market during volatile times have a higher likelihood of being able to negotiate concessions and rate buydowns from sellers today and can refinance into lower long-term rates in the future.
Banking failures are inherently deflationary. While we don't yet know the long-term impacts of the banking failures, the immediate impact was a drop in rates. In the future, access to credit could be tightened, which is also deflationary.
I dive into the data and economic news every single day so that I can keep my finger on the market pulse. My approach to real estate is highly individualized to your short- and long-term goals. Please reply to this email if you have any questions or want to learn more about how current market conditions impact you now and in the future.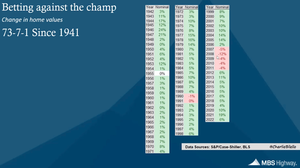 Real estate has had a strong track record of positive home price appreciation since 1941.
Growth Explodes in Northeast Aurora
Aurora is Colorado's fifth largest city and it is growing fast. The northeast portion of Aurora is often referred to as the "Emerging Aerotropolis" and it is an area of town where the city is working hard to retain, attract, and expand business and employment opportunities for its community.
With 15 new developments in the works, the city is heavily invested in creating atmospheres for businesses to thrive by melding business and residential communities together. Its focus on transit-oriented development, urban renewal/redevelopment, retail, residential, and industrial/office is making Aurora an attractive place to call home.
It's Spring Break!
Are you as tired of the snow and cold weather as I am? If so, we are lucky to have the world's third busiest airport in our backyard. Check out these 
16 non-stop international flights
 and enjoy a reprieve from the cold!
If you are looking for quick hits on the market, follow me on LinkedIn to get daily insight. If I can help you strategize your next steps in real estate in the Denver metro or elsewhere across the U.S., please reply or book a call with me!
Connect with me on social media and stay in the know with market updates