US News and World Report just named Denver the hottest real estate market in the country and the one most likely to encounter multiple offers and rising prices once rates drop. The news timed nicely with a scroll-stopping Instagram post from Bloomberg I came across the other day:
"Millennials: If you don't learn to compromise on your dream home, you'll be renting forever."
I agree with this statement because it's a trend I encounter in my conversations with buyers. Too many buyers expect to jump from an apartment to a single family home. If they can't get the house of their dreams on the first try, they tell me they will continue to rent until they can save more money or "wait until the market crashes." For many, that's simply an unrealistic approach to homeownership. So, I thought it might be helpful to share my story since it took me 11 years to get into my dream home. Here's how I did it:
1. I purchased a $200k condo in San Diego on Dec. 31, 2008 amidst the plummeting real estate market. I lived there for three years, then rented it out for two, selling it in 2015 for a tax-free profit.
2. My then-boyfriend and I bought a single-family home near Denver in 2016, reinvesting my condo profits into high-ROI updates. We thought it would be our forever home (my dad laughed at me when I told him that!), but life happens and now this home is an incredible rental for us.
3. A busy summer of long-term visitors in our compact 1,500 sq.ft. home in 2019 had my now-husband eager for more space. Just after I got my real estate license, he spotted a house for sale. It wasn't our style, but another property caught our eye. Dated but with evident potential, we somehow mustered the funds to buy it and have been remodeling it ever since.
Here's the biggest piece of advice I can give to first time homebuyers: Approach homeownership as a ladder. Each step represents learning, appreciation, and equity.
Life can change swiftly, and so do housing needs. Skipping to a forever home means missing out on valuable lessons from earlier purchases.
What worries me is when potential homeowners opt to rent simply because their ideal home is out of reach right now. Here's the reality: Inflation and property prices generally surpass wage growth and savings abilities.
For most, the path to that dream home involves starting smaller and leveraging property appreciation. This journey might seem indirect, but it's a proven route to success, and, if you are truly committed to becoming a homeowner, I am determined to help you achieve your goal!
How the NFL season relates to the real estate market
Did you know there's a link between the NFL season and real estate? It's not about touchdowns, but timing.
Historically, right after the Super Bowl, the spring real estate market surges.
So, if you're house-hunting, think of the NFL season as your countdown to dive into the market with less competition.
Already eyeing a spring purchase? Here's a game plan:
1. Examine your lease break policy if you're a renter and connect with me early to discuss timing if you're a homeowner looking to upgrade or downsize.
2. Consider starting your search in December – fewer rivals, better deals.
3. Sync your move with the lease's end, but be flexible.
4. Meet with your lender now. Get those finances game-ready.
5. Sometimes, paying rent and a mortgage briefly or breaking a lease is cheaper than a bidding war.
I can't promise a Broncos winning season, but I can quarterback you to a home-buying win!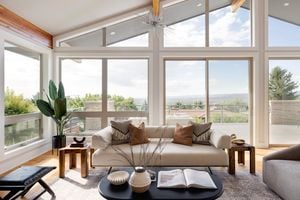 Two Incredible Properties Brought to You by Dempsey Group!
6836 Dudley Circle, Arvada, CO 80004: $1,450,000
OPEN HOUSE: Saturday, Sep. 30th, 11 AM – 2 PM | Sunday, Oct. 1st, 10 AM – 12 PM
Inside, this Arvada home boasts an elegantly modern design, seamlessly blending contemporary flair with luxurious comfort. The open-concept living space is adorned with rich white oak floors, illuminated by vast windows that welcome natural light. The gourmet kitchen features top-tier appliances, gleaming quartz countertops, and bespoke mahogany touches. Each room radiates sophistication, from the opulent primary suite with its spa-like bath to the state-of-the-art entertainment areas. Perched atop Scenic Heights, this home offers panoramic views that are unparalleled. Every window frames a masterpiece: Denver's iconic skyline, the majestic Pikes Peak, and rolling foothills stretching westward. Listed at $1,450,000, this home is a stunner and will break neighborhood price records.
4767 Clay Street, Denver, CO 80211: $505,000
OPEN HOUSE: Saturday, Sep. 23rd, 11 AM – 1 PM
Step into this Sunnyside bungalow, a blend of classic charm and modern comfort. Sunlight cascades onto original hardwood floors, accentuating the home's tall ceilings. Authentic exposed brick walls add a touch of character, while the upgraded kitchen seamlessly marries tradition with modernity. Freshly painted in inviting hues, each room radiates warmth. The expansive bathroom merges space with style, making every inch of this home a testament to refined living. Listed at $505,000, this is the most affordably priced home in all of Sunnyside, the Highlands and Jefferson Park!
If you are looking for quick hits on the market, follow me on LinkedIn to get daily insight. If I can help you strategize your next steps in real estate in the Denver metro or elsewhere across the U.S., please reply or book a call with me!